Full-Service Catering & Event Planning
Poetry In Motion Catering began in 1999 in Watsonville, California. Over the past 20 years our love for our craft has allowed us to become one of Santa Cruz Counties most highly reputable caterers. Our long standing team and multiple vendor relationships allow us to flawlessly see your project from start to finish. We can make your event "Poetry in Motion".
Our Mission is simple. Make our clients vision come to fruition. At the end of the day we want our clients to feel proud of their event and have made memories that will last a lifetime.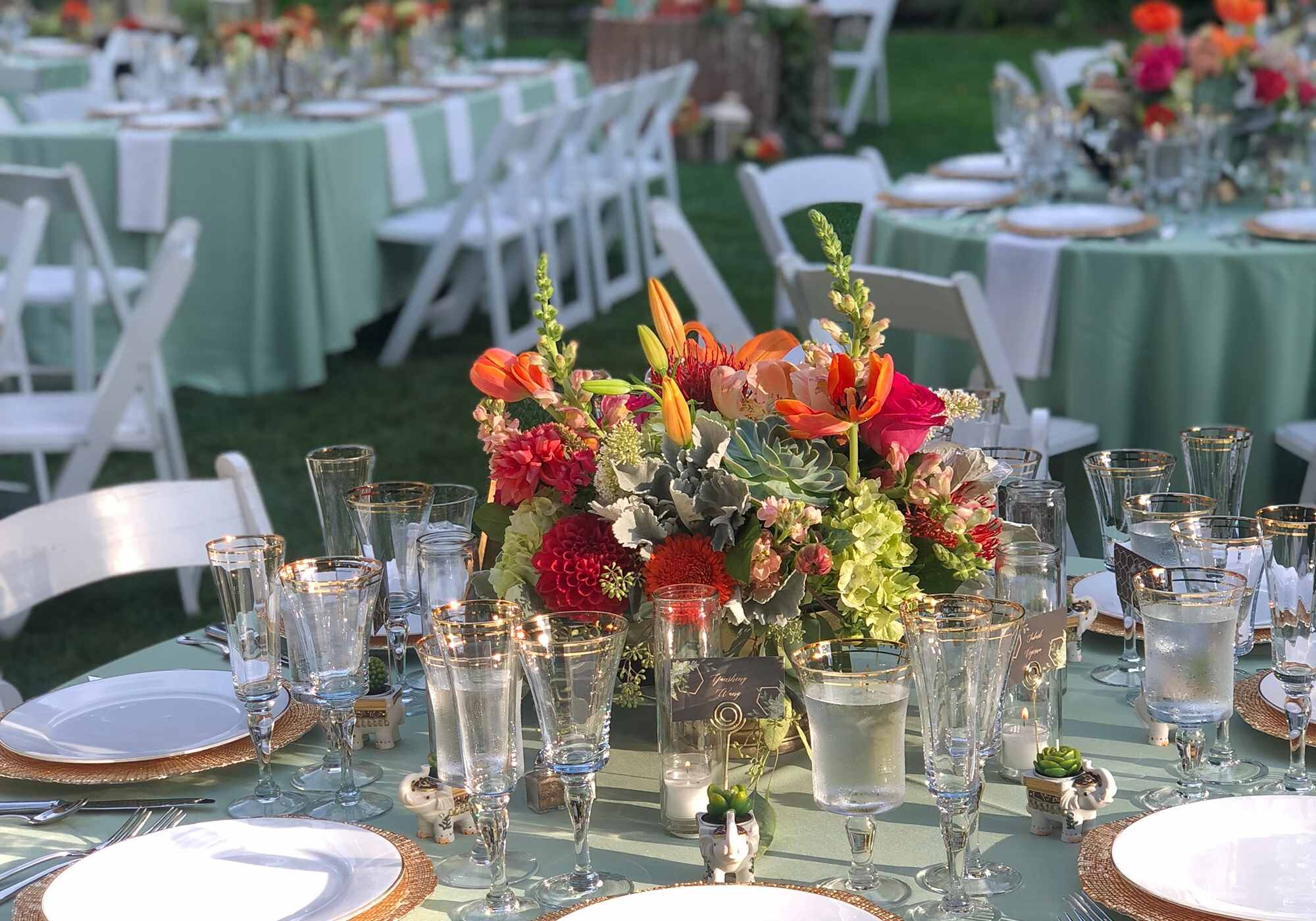 Well for starters our owner, Karen Major, is brilliant! Her knowledge of the industry and love of food could impress anyone. Together with Andrea, our events coordinator for the past 15 years, every event is a success. 
A majority of our staff has been here since the beginning! Our synergy allows us to execute our clients dreams. Integrity is always at the forefront of everything we do. As a whole we are simply hardworking. Nothing gives us more joy than understanding what our clients want and bringing it to life. 
We make it a priority to establish solid relationships with all of our clients, as well as our team members and partners. Poetry In Motion Catering has been a trusted vendor of Nestldown for over 16 years! We are also affiliated with WeddingWire, Carats & Cake, The Knot, and Green Wedding Shoes. This year alone we were featured in Wedding Wire as well as Today's Bride. 
"Poetry in Motion made our wedding day not only worry-free, but unforgettable. Our guests gave rave reviews about how tasty all of the food was. Karen and her capable staff came through as promised and took care of every aspect of dinner from staging, set-up and serving. Our advice is don't waste any more time looking and book Poetry in Motion for your important event now!"
Lela & Frank Cirocco
Nestldown
"Karen went out of her way to insure our evening wedding reception was more beautiful than we had imagined The food was amazing! We were also exceptionally pleased with the professionalism of her staff."
Susan and Edmund Scurich
"My daughter's wedding was beautiful and I couldn't have been happier with the role Poetry in Motion played. Karen and her staff saw to just about every detail, she had so many great suggestions. She even called me from time to time to see how we were all doing! The food was fabulous, the tables were beautiful and presentation was so impressive. Her staff was so thoughtful and considerate,it made the day that much more special. Our friends are still talking about it. I hope she has pictures. Karen said they were full service, but they were so much more. They went out of their way to assure the day was extraordinary. I hope we have the opportunity to use Poetry in Motion again."


Patti Ambrose
"Poetry In Motion is a top-notch organization. I have never worried about the food selections, presentations, or service. Karen and her crew take all of the guesswork out of the equation and handle the workload with skill and unflappability."
Cheers, Julie Kenter DiNapoli
"Karen and her team did a fantastic job for our wedding. She truly offered full service, and at a reasonable price. We were on a budget, and extremely busy, and Karen's team took care of tons of details for us that made it easier, far above and beyond just catering the food. The table settings were gorgeous, the staff kept everything stocked and tidy, I felt totally at ease and relaxed on my wedding day because of Karen. And people are still talking about how good the food was! You're the best, what else can I say? Hope all is well."
Jessica
"From our first phone call to Poetry in Motion Catering to our daughter's wedding day, we have been deeply impressed with Karen Major's attention to detail and her highculinary standards. We wanted a personalized menu built around Ellen and Ted's favorite recipes, and Poetry inMotion created our requests with the freshest and highest quality local ingredients. Karen even practiced by making several variations until she found the one that pleased us the most. The end result was that our guests - foodies all - continue to rave about the food! With excellent staging, preparation and presentation, each hors d'oeuvres and course was superbly featured and flowed together seamlessly. Our table settings were exquisite and made the transition from daylight to twilight beautifully. Karen and her team of professionals took care of every detail so that we truly relaxed and enjoyed the day to the fullest. They're efficient post-receptionclean up was amazing and most welcome at the end of a wonderful celebration. Poetry In Motion is an exceptional team.
​Karen's love for her work shines through all that she does. We recommend them without reservation!"
Marcy Lauck
"Karen and her team helped us create the wedding of our dreams. In the planning stages, Karen was always available when we needed her, responsive to our questions, and willing to work within our budget constraints. She even met with us to brainstorm table decorations and floral design. With our theme and concept in mind, Karen created a down-home, comfort food-oriented menu that our guests described as the "best"meal they had ever had at wedding... wonderful little chicken pot pies and braised short ribs. Her team's attention to detail was amazing - we had a couple guests with nut allergies and vegetarian diets, and her team was extremely diligent in seeking these people out and making sure their needs were met. Looking back on our day, especially given the challenging weather, Karen and her team made everything come together beautifully - from the execution of the food to the decoration of the tables. Literally, everything was perfect!"
Tyler & Jennie
"My husband and I hired Karen to cater our wedding reception back in August of last year. She did such a great job that we refer her to all of our friends. The reception decorations and food, were perfect. She provided us with lots of referrals for bands, photographers and much more. She was able to negotiate deals for us. She is such a wonderful and honest person and we still keep in touch with her to this day. Business people like her are few and far between."
Racheal
"Karen Major is BRILLIANT! Her knowledge of everything wedding is so extensive that she eases your mind from the moment you speak with her. I had been so incredibly stressed before working with Karen; trying to plan so many different aspects of the wedding. As soon asI was able to explain my vision to Karen, she took the reigns and it was smooth sailing from that point forward. Poetry in Motion's staff is incredible as well. The front of the house, Andrea takes care of you every step of the way on your special day. I never was hungry, always had a drink in my hand, and never went without anything I could possibly need. They never stop working to make your wedding day as perfect as possible. My husband and I were married September 13th, 2014. Karen catered both our rehearsal dinner as well as our wedding. Since that day, we have gotten compliment after compliment on our delicious menu. The food was beautifully prepared and everyone enjoyed the variety of dishes. Every appetizer was as good as the last and our dinner was insanely delicious. Karen not only prepared our menu but also took on our bar and made sure we had the most gorgeous flowers. She has an eye for beauty and her taste is impeccable. She went out of her way to go above and beyond for us at every turn. I honestly can't say enough wonderful things about who she is and how she runs her business. She is the best of the best and we will forever be grateful to her for everything she did for us. She made our wedding weekend the happiest time in our life."
Holley and Tony Spinazza Campbell, Ca